I am one of those people that believe every cloud has a silver lining and you must grab opportunities with both hands.
In February 2010 hubby was generously helping trim some overgrown shrubs in our front garden. Somehow he managed to twist his neck and probably due to a car accident 3 years ago he ended up crushing the disc between the 5th and 6th vertebrae. That resulted in an operation to fuse the 2 vertebrae and having to wear a neck brace for six weeks.
Problem: What to do with an ugly patch of tar outside your back door and a husband that can't sit still
Solution: You hire 2 willing helpers and you get hubby to supervise. Remove the offending tar, build some curvy walls, bring in loads of compost and soil and voila you have a veggie patch.
Since then we have added some pavers on the pathway and have planted wonder lawn, pennyroyal, oreganum and felicias in between. The ever present alyssum have made themselves at home too.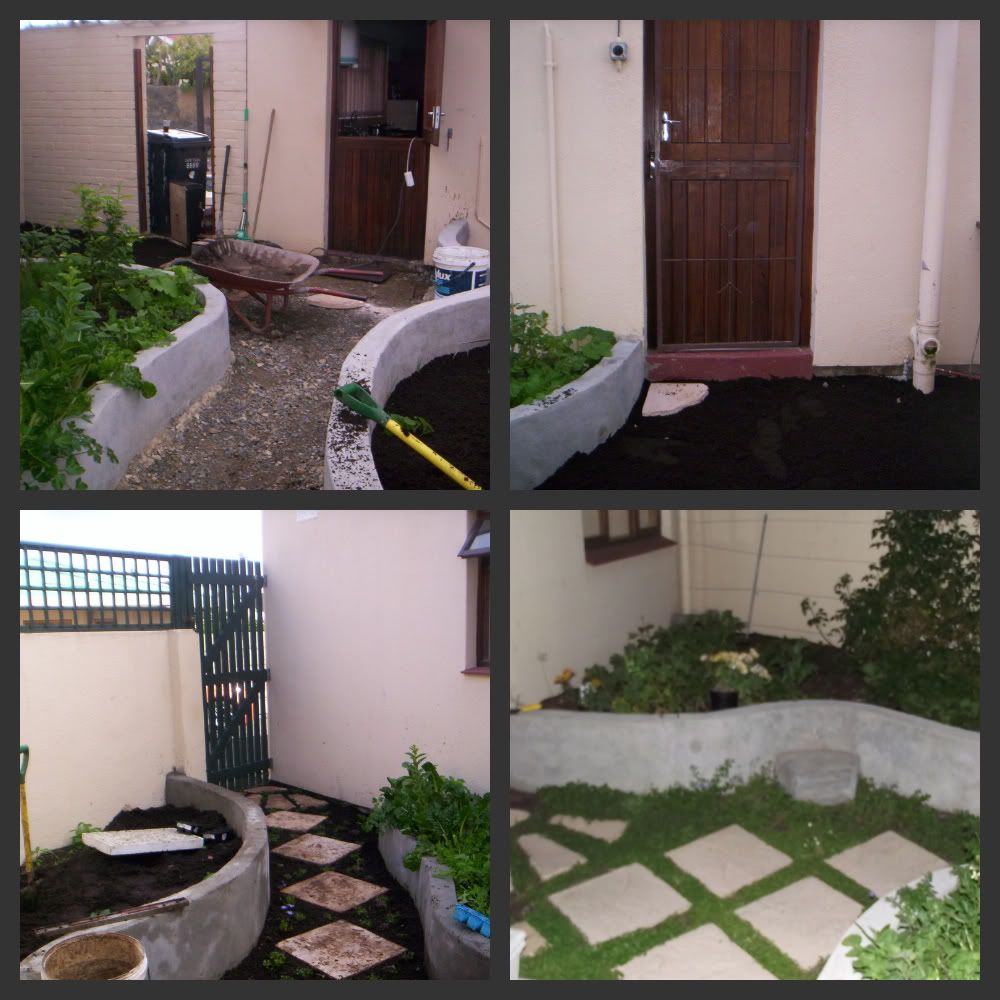 We have had some disasters in the patch like the lettuce and rocket bolting, the strawberries dying and the cauliflower not getting heads.
But we have also enjoyed quite a few meals with cherry tomatoes, lettuce and swiss chard
At the moment we have zucchini and butternut growing. Being the novice gardeners that we are, we couldn't understand why the butternuts would grow to about 5cm and then die. Luckily Mark my favourite veggie/cooking blogger from the UK soon put us right.
Apparently our butternuts needed some help in the bedroom area and so started the dating game. Every morning I dash outside and look for male and female flowers so that I can hand pollinate them. Some mornings I am lucky and there are equal amounts of males and females and then everyone is happy, and other days I am not so fortunate and someone becomes the proverbial wallflower. Not sure I am doing it right but I pretty much destroy the male in order to pollinate the female – it seems a little like the praying mantis who bites off her suitors head after he has fulfilled his purpose. I wonder if the human race wouldn't turn out better if we girls got something like that going. Just kidding guys!